SaltyDreads Dreadlock Art has been used for (professional) photoshoots and videos. 
These are the latest projects Marjolein of SaltyDreads has participated in with her Dreadlocks.
Janet Jackson Interview Beauty Magazine Allure
Read the full interview from Allure with Janet Jackson here.
Paris Jackson - Photoshoots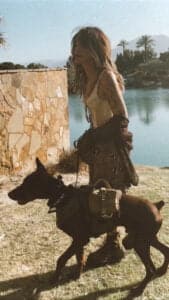 Photoshoot Collab work with:
Singer, Song writer, Model, Actrice: Paris Jackson
Dreads by: SaltyDreads
Hairstyling: Riawna Capri, Nikki Lee, Salon Nine Zero One West Hollywood
Fashion: R13 & Dani and Emma Style
THE • VENTURER

" We often wonder where our feet might take us. How deep our footsteps will be, if the wind will take them away, or if they will leave any mark at all. Deep into our human consciousness there remains the enduring urge to make sense of our paths, Yet it is up to us to permit our wondering to pass through us. And keep Venturing into the Unknown.
" This very special project is brought to you by SaltyDreads. It personifies the moment when we let go of our fears and wonders, and embrace the Unknown.
Hair & Styling: SaltyDreads
Director & Creator: Robin van der Weide
Model: Alana Una Divine
Music: tihanamusic on YT
Text: Robin van der Weide
Media Bookings
Press & Media bookings can be requested via email info@saltydreads.com .